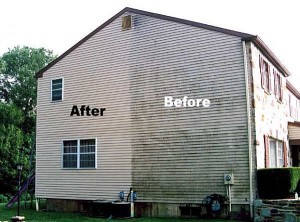 Our professional results will leave your home gleaming!
At American-ProTech, we specialize in making the exterior of homes sparkle.  Our highly skilled uniformed employees are trained in the latest LOW PRESSURE techniques.  Coupled with massive, commercial grade truck-mounted equipment and keen attention to detail, our results are nothing short of amazing!    Call or click for a free quote, to have your questions answered or to have your home scheduled for a professional house wash by American-ProTech.  You'll be glad that you did!

High pressure has it's place, but the exterior of your home is NOT one of them.  In fact, using high pressure devices on any form of exterior siding material can be extremely detrimental to the surface. It can also rupture moisture barriers (Tyvek and the like), break the argon seals on mutli-paned windows and short circuit electrical boxes just to name a few.  
This is why American-ProTech has adopted a high VOLUME, LOW pressure method as our only solution for cleaning the exterior of your home or business.  Best of all, unlike typical pressure washing or power washing, our high VOLUME technique uses mild cleaners and polymer-based algaecides.  These mild and safe agents not only clean exterior surfaces amazingly well, the results last longer than 'typical' pressure washing as the surfaces are actually sanitized; spores of mold, mildew algae and the like are destroyed during the cleaning process.
Cap off your house wash with a optional Simoniz™ Wax Treatment to lock in that sparkling clean finish for even longer lasting results.  
We're American-ProTech, Northern Virginia's leader in professional house washing services and chemical roof stain removal services.  Call or click today!
Professional Staff
Professional Equipment
Professional Results - EVERY time!